"My Dream of 2023 Declaration Event - Time To Fly 2023" held at NACK5 Stadium Omiya during the Empress's Cup JFA 41st Japan Women's Football Championship Final
2020.01.08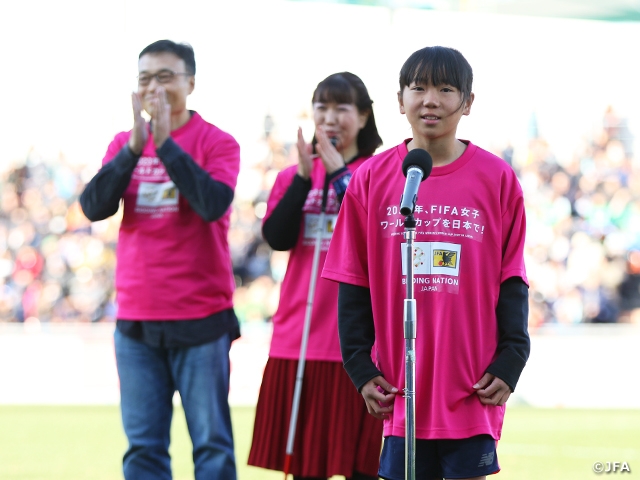 As part of the promotional events to support the Japanese Bid to host the FIFA Women's World Cup 2023, "My Dream of 2023 Declaration Event - Time To Fly 2023" was held at NACK5 Stadium Omiya during the Empress's Cup JFA 41st Japan Women's Football Championship Final on Sunday 29 December 2019.
Over 2,000 messages have been collected through the special booths held during the four Japan National Team matches and the website. Among those messages, three people were selected to share their dreams on the pitch ahead of the kick-off of the final.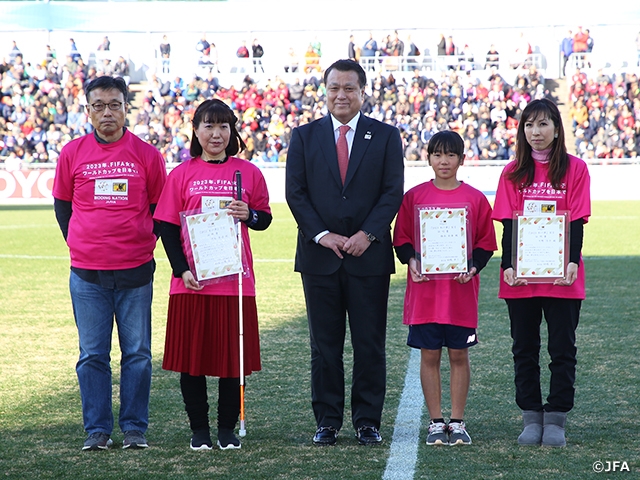 ① Ms. KAWANO Hiroko
My dream is to become a photographer. I currently take photos as a hobby, but one day I hope to take photos that can be shared to and inspire people all over the world. I never thought I would be sharing my dreams in front of this many people, but I will utilise this opportunity to step up my efforts to pursue my dream.
② Ms. HASHIMOTO Saki
I hope to become a player that can play on this pitch and give dreams to the viewers. Four years from now, I will become a member of the Nadeshiko Japan and return to this pitch as a player.
③ Ms. KAWAMOTO Miharu
My dream of 2023 is to see the Nadeshiko Japan win their second World Cup title in Japan. I will utilise the energy, dreams, and hope given by the Nadeshiko Japan to help construct "REAL ONE JAPAN," a society where people can support each other regardless of their gender, age, and whether they are with or without disabilities. As a member of "REAL ONE JAPAN," I will give my efforts to promote the advancement of women's football in the world.
Following the declarations, JFA President TASHIMA gave out commemorative gifts and shared his message: "The JFA will also give our utmost efforts to realise the Japanese Bid to host the FIFA Women's World Cup 2023. Let's work together to achieve our dreams!"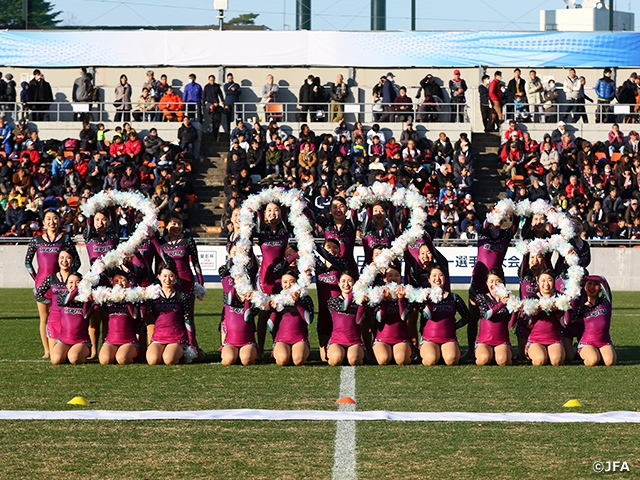 Also, on this day, football classes held by players of the Nadeshiko League and a walk-rally took place, while a performance given by Shobi University's women's cheerleading club was conducted during halftime to entertain the crowd of 10,000 people who gathered at the stadium.
In order to achieve the dreams of 2023 together, the football family will continue to pursue variety of promotional activities. For future events, please visit: https://japan2023bid.com/en/event/